[DinnerTimer Lite 1.2.0 - Home Page - information / description / features]
File size: 9010 Kb
Product Download link 1:
Click here to start the download

(sometimes there are two download links because it may happen that the main server / link is in overload or slow or not responding - the files usually are identical. Just choose one, save to the Desktop, double click to install)
Dinner Timer Lite is an easy to use timer for the kitchen PC. Customise your alarm sounds, automatically notify friends and family through the Twitter notifier. Use the unique after burn timer to keep track of how long over the set time you have gone. Dinner Timer Lite isn't limited just to the kitchen, it can be used any where a countdown timer is needed. Dinner Timer Lite is freeware, please install as often as you like for FREE.
(
Time your cooking easily, customize your alarm sounds. Free and simple to use.
)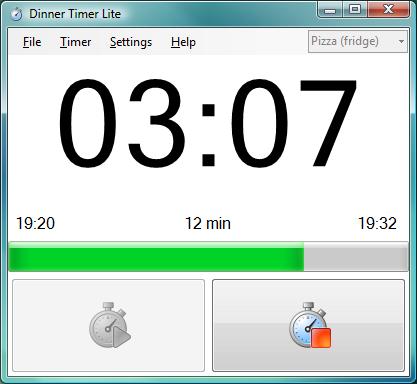 Dinner Timer Lite is an easy to use timer for the kitchen PC, choose from different built in alarm sounds including Cow moo, air horn, buzzers, a chainsaw as well as many other or use your own sounds.

Dinner Time Lite has a unique after burn timer, where it keeps track of how long over the set time you have gone, so when you give your cooking that extra minute its easy to measure. You can also receive two extra notifications to remind you that you are still cooking.

The bubble notification allows you to receive notifications from Dinner Timer Lite through a bubble at the notification area should you have the sound turned down.

Keep your friends up-to-date with your dinning status by using the optional built in Twitter notification, let Dinner Timer Lite post when you start the timer, how long for, when dinners about to be ready and when it's ready. When you stop the timer it can post a message telling your friends you are off to dinner, or with the unique after burn timer let your friends know you've bunrt your dinner again.

Both the bubble and Twitter notifications use a text replacement template so you can include details of time remaining and when the dinner will be ready in the notification.

Using configurable transparency you can run Dinner Timer Lite on-top of other applications without obscuring the view. Have that recipe open with Dinner Timer Lite on-top and still read the recipe whilst keeping an eye on the time.

Configurable time options means that not only can you type in a time and hit start but you can also pre-define cooking times and give them a name. e.g. You could add a 12 minute timer and call it Pizza. Then when you select Pizza from the time options and press start the time will automatically start for 12 minutes.

Dinner Timer Lite isn't limited just to the kitchen, it can be used any where a countdown timer is needed. Dinner Timer Lite is freeware, please download and install as often as you like for FREE.
Timer software, Dinner Timer software, Cooking Timer software, Egg Timer software